Description
 Nicholas Russell Standard Trio and Nick & Benton both include local talent from Haliburton County. They have a strong and loyal local following who has watched them play on the high school stage, in local bars, and now at large venues like ours. We can't wait for their Music @ The Gardens stage debut at Sunday's matinee!
Doors open 1pm. First set starts at 1:15pm. Soft drinks and hot beverages are complimentary. Beer and wine will be available for purchase. Visit The Food Hub to purchase a delicious gourmet lunch made from local ingredients at the Garden Café before the concert!
Bios: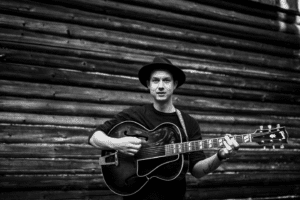 Nicholas Russell Standards Trio 
Nicholas Russell is a Southern Ontario based jazz guitarist, producer & music educator. A Haliburton native, Nick travels regularly for studio and stage work with projects having aired on national radio (CBC, Jazz FM, CFRU) and international television. Nick's musical style and knowledge spans genres, but his current exploration as a guitarist lie at the intersection of acoustic music, classic and contemporary jazz, and progressive rock. His most recent full length release, titled 'ARCHTOP', out on RoundHome records, is available on all streaming platforms. For this special set at Music @ The Gardens, Nick is playing jazz standards and blues in a trio format along with another Haliburton native, upright bass player Ben Young. For information on Nick and his tunes please visit: https://link.edgepilot.com/s/e95f88f1/7_OF8WHSYEqehCAJPR23ug?u=http://www.nicholasrussell.ca/
LISTEN HERE: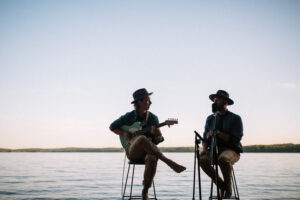 Nick & Benton
NICK & BENTON WRITE HEAD-TURNING SONGS THAT ARE RAW, MEMORABLE AND DEEPLY INSPIRED BY INDIE, BLUES & SOUL. THEIR SOUND HAS VIBE.
This duo of electric guitar and vocals hail from the lakes and rivers of Haliburton County, Ontario. Prompted by a move of the guitarist, Nick, back to his hometown, the two have been playing together since 2018. Benton's natural charisma and ability to find the 'Good Sound' over Nick's adept guitar work holds space. A space that the duo occupy very well, be it big or small. In addition to appearances now all over Southern Ontario, Nick & Benton offer a unique musical experience in and around their homes of Haliburton County & Muskoka: Bonfire Sessions. Nick and Benton are known for filming impromptu music videos in the most incredible Haliburton settings: Fort Treehouse, off-grid Cabinscape cabins to name a few. Nick and Benton's music has been featured by Ontario Highlands and is streaming on all platforms. Visit https://link.edgepilot.com/s/a72440f3/g7Yb7wdfs0OnPxNCjCHqNA?u=http://www.nickandbenton.com/ for more information.
LISTEN HERE: