Choose Abbey Gardens For Your Next Event
Make your event a special one
Are you planning a birthday party, luncheon or family reunion? Looking for that picture-perfect wedding venue in the Haliburton Highlands? We have the space, amenities and the support you need to make your event a special one.
Groups of 12 or more can book space for an event at Abbey Gardens. Outdoor events can be booked between May and October while indoor events take place year-round.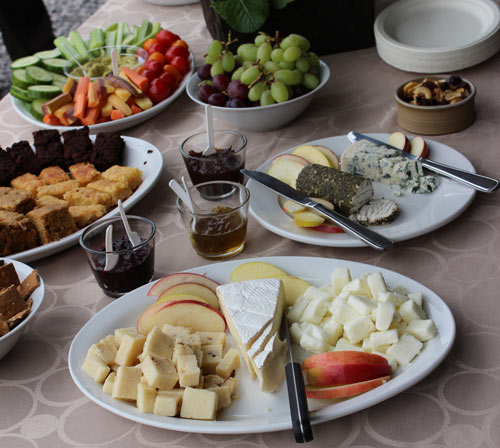 Spaces available include: 
The Food Hub's porch (space for 24 people)
the gardens
Abbey Retreat Centre (40 people inside but tents can be added outside)
Enchanted Forest
Abbey Gardens Gathering Place (30 x 30-foot building at the back of the property)
For more information about planning a wedding at Abbey Gardens, download our brochure.
Need catering?
Leave the cooking to our chef and kitchen team. We can look after all the important dining details for your event. Below is a list of some of our standards. If you're interested in a custom menu, we'd be more than happy to work closely with you to make it a reality. Please contact operations director Heather Reid at heather@abbeygardens.ca or call 705-754-4769. 
Fresh Salads ($4-8/person)
Potato salad (French style or homestyle)
Deli style coleslaw
Lentil & wheat berry salad
Greek pasta salad
Four bean salad
Garden salad
Traditional Caesar salad
Gourmet three-cheese macaroni and cheese
Shepherd's pie
Chili (traditional or vegetarian)
Pulled pork
Chicken alfredo
Penne with homemade marinara sauce (choice of sausage or chicken)
Penne with seasonal vegetables in sesame sauce
Beef or vegetarian stew
Seasonal Soups ($3-6/person)
Appetizers (Cold and Hot) ($12-20/person)
Cheese Boards ($35-65 each)
Dessert Trays ($3-5/person)
Seasonal Fruit Pies ($15-18 each)
Fully Catered Dinners ($25 per person and up)