VOLUNTEER
YES!  We need you!
 
DONATE
It goes a long way.

MEMBERSHIPS
Renew or join today.

JOBS
Join our team.
How We Reward You
For each hour of time you donate, you'll get a $1 "Garden Bucks" coupon to spend at the Food Hub. You will also receive an invitation to the end-of-season luncheon celebration and free coffee and tea while on site.
Volunteer With Us
We need you! At Abbey Gardens, we aim to provide a volunteering experience that is both enjoyable and effective. We're flexible and will work with your schedule, your passions and your talents to provide a fulfilling and productive experience.
Our program started in the gardens in 2010 and has expanded to include opportunities in the following areas:
planting, weeding and harvesting

Food Hub support

pony pals (work with our Ojibwe horses)

support Community Living in the gardens

children's programming

youth leadership training

homeschool program

tours and hikes

events.
Donate
Your charitable donation goes a long way!
Read more about the accomplishments of Abbey Gardens, our partnerships and our current priorities. All levels of support are appreciated as we build our organization and implement community-based environmental projects.
We invite you to contribute donations by mail to the address below:
Abbey Gardens Community Trust
1012 Garden Gate Dr.
Haliburton, Ontario
K0M 1S0
Charitable receipts will be issued and returned to you by mail; please provide your mailing address and contact details.
Memberships
Renew your membership from last year or join today and receive the following benefits at Abbey Gardens:
2022 membership calendar 
Monthly perks and discounts on products in the Hub, event tickets, registration fees, and more!
10% discount at the Food Hub on most products*
Special member events and offers throughout the year
2022 memberships available now! To renew or sign up for a membership, visit us in person at the Food Hub during regular business hours. Memberships are $40 and are valid for the calendar year. 
*Excluding sale items.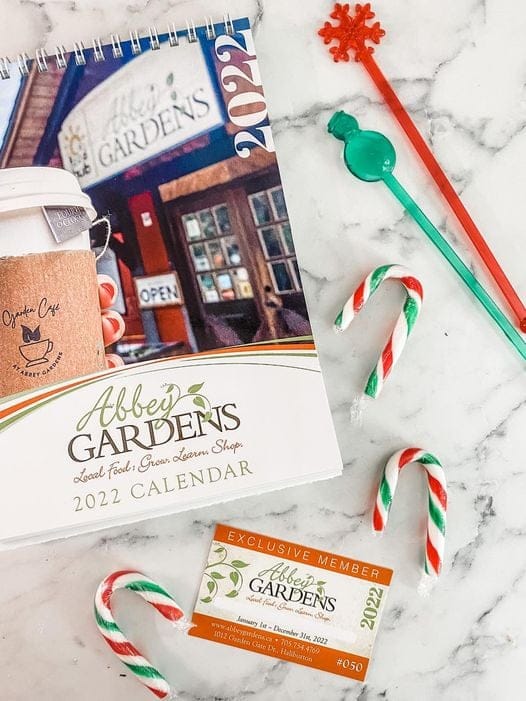 Find us at 1012 Garden Gate Drive, Haliburton,ON.   705.754.GROW (4769)