FOOD
HUB
Shop for local food.

ORGANIC
GARDENS
Stroll the gardens.

OUR
PARTNERS
Visit local businesses.

HERITAGE BREEDS
See ponies and chickens.
Visit Abbey Gardens
Our gardens, hiking trails, Food Hub, educational displays and local business partners (including a craft brewery) are all located on site in the beautiful Haliburton Highlands, Ontario overlooking Grass Lake. Visitors are welcome to tour the gardens, visit our heritage breed ponies and chickens, shop for local food at the Food Hub, enjoy lunch on our new restaurant patio, book a tour of the grounds, hike the trails or participate in one of our programming options.
Enjoy a selection of seasonal sandwiches made on freshly baked buns (vegetarian and meat options available)  during regular business hours. Enjoy your lunch on our new screened-in porch!
7 Days A Week!
Monday – Sunday: 10am – 6pm
Site Features
Abbey Gardens is located on a glorious heritage parcel in the Haliburton Highlands. For the past several decades this 310-acre parcel of land has operated as a gravel pit, helping to pave the way for growth and development in Haliburton County. Now our community is gathering around efforts to remediate the site and create a stunning visitor attraction.
A Food Hub, providing local food to our community
Haliburton Highlands Brewing Co.
5 acre pony paddock
The alcove-a beautiful, cedar-lined heated building overlooking a pond
Transition trail-a journey through our property to look at transitions in nature and with Abbey Gardens
Timber-frame kiosk area overlooking our property
The Glen- a wooded wonderland for children's programming
a 2-acre vegetable garden built over old sand pits
Demonstration hoop house with a seating area and pond
Shade gardens, pollinator gardens, herb gardens
3 spring fed ponds
Education garden featuring various raised garden beds, vertical growing techniques and a solar-fed water tower
large open areas bathed in sunlight
140 acres of mature forest with old farm trails throughout
grassy knolls and brush wind breaks alive with pollinators
onsite aggregate materials
  Discover The Food Hub
The Food Hub is your go-to store for healthy, delicious local food. (We classify local as any product grown, made or packaged within a 200-km radius.) Our goal is to create demand for and provide easy access to local food.
Some of the products you'll find include:
vegetables from our garden and hydroponic
growing unit
fruits
freshly baked treats
soups
pre-made dinners
gourmet cheeses
organically raised meats
coffee and breads.
Shop Local
We prefer organic or sustainably grown items but will carry conventional and label accordingly. About 10% of our product mix is sourced outside of the 200-km radius. If there is demand for complementary products (i.e. seasoning), we will carry them. Since this is a social enterprise, any profits made are reinvested into the project to support educational programs and facilities.
7 days a week
Monday – Sunday 10 am – 6 pm
Enjoy Our Trails and Connect with Nature
Hit the trails for some fun and exercise. At Abbey Gardens, we have about five km of marked trails that go through 140 acres of mature forest. This varied terrain is free to explore year-round, whenever you like. Feel free to check in at the Food Hub during regular business hours, however this isn't mandatory.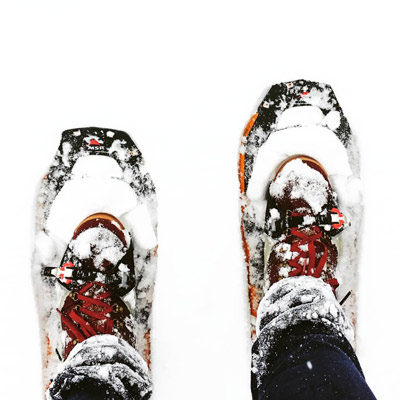 Snowshoeing & Fat Biking
Embrace the winter season in the Haliburton Highlands and get active. At Abbey Gardens, we encourage you to make your way through our snow-covered grounds and take in the beauty of our winter wonderland. Our trails are groomed after heavy snowfall and are appropriate for snowshoeing and fat biking. Dogs welcome if leashed and cleaned up after.
Guided snowshoe hikes are available for groups of 10 or more at a cost of $10 per person…or explore on your own! View trail map here.
No snowshoes? No problem! Snowshoe rentals are just $10 per person. Adult and child pairs available.

The Enchanted Forest
What about the kids in your family? Want to offer them their own adventure? Near the back of our property, you'll find a children's play area called the Enchanted Forest. This free outdoor attraction is open from the Victoria Day long weekend to Thanksgiving. It features:
a theatre
mud kitchen
construction zone
painting area (painting supplies available for a $5 deposit at The Food Hub – NOTE: painting supplies are not currently available during the COVID-19 pandemic)
and more!
While here, walk over to visit our Ojibwe horses, one of the rarest breeds in the world.
Chickadee Trail
Can you get that chickadee feeling? Our new Chickadee Trail features a charming children's story at the trailhead as well as interpretive signage about these little birds along the trail. Don't forget to get some sunflower seeds with a colouring page from the Food Hub for only a toonie ($2) so you can try hand-feeding! This trail is short, sweet and ends with a beautiful sitting area-perfect for bird watching!
Note: The Chickadee Trail is a winter activity.
Winter Scramble
Explore Abbey Gardens and search for clues that will help you uncover a secret message! Trek to marked locations on the property to find different winter symbols, each with a letter to reveal. Decode the message and receive a free hot chocolate from the Food Hub. A perfect self-guided family activity that can be done anytime during regular business hours (10am-6pm) all winter long. Pick-up your scramble map at the Food Hub.
Gardens
Visitors are welcome to explore the garden rows while learning about gardening through our interpretive signs. Our gardens feature food and flower varieties, permaculture gardening techniques, and interesting ideas in sustainable agriculture. We currently have 2 acres of vegetable gardens, an education garden, backyard composting demonstration, pollinator gardens and hoop houses. All of the vegetables grown in the garden are sold fresh on the Food Hub shelves or processed in the kitchen into value-added products.
 This area is free to explore and open Victoria Day long weekend to Thanksgiving. During your visit, you'll encounter:
Chantecler chickens
a mud kitchen
perennial flower and vegetable gardens
picnic tables
seasonal pumpkin patch
composting demo area.
Tours
We offer guided and self-guided tours of our property, gardens and organization. Contact Cara about custom or private tours. $10 per person, kids free!  Alternatively, explore the property and gardens as you read our interpretive signage, or grab one of our seasonal children's activities from the Food Hub to go on a fun, scavenger hunt!
Heritage Breeds
Biodiversity in agriculture is critical to food security and Abbey Gardens is committed to preserving and demonstrating heritage livestock. Their genetics have evolved over centuries of farming to be well adapted to our environment and resilient to pests and disease. In an age of factory farms and genetically-modified food sources, supporting heritage breeds is one important activity in support of food security and resilience. At Abbey Gardens, we showcase two rare breeds: Ojibwe Horses and Chantecler chickens.
Meet Our Rare Ojibwe Horses
There are only about 200 Ojibwe horses in existence. And you can find two of them right here at Abbey Gardens. 
This rare Canadian breed, formerly known as the Lac La Croix Pony, is small, friendly and versatile. And they like visitors! Children can meet brothers Maple and Sammy in one of our educational programs, or you can drop by to see them. You'll find their companion, a miniature appaloosa named Flapjack, nearby.
Equine-Assisted Learning at Abbey Gardens
Develop lifelong skills using 'horse sense'   
These rare breeds are the stars of our Equine Assisted Learning program, which offers a unique experience to get up close and personal with them while learning life skills in a fun and interactive way. It's fun, soothing approach to personal development.
Chantecler Chicken
The Chantecler is a breed of chicken originating in Quebec in the early 20th century. With plumage that lies tight against the body and an exceptionally small cushion comb and wattles (to protect against frostbite), the Chantecler is one of the most cold-hardy chickens and is suitable for both egg and meat production.
Bees At Abbey Gardens
Bees are a wonderful example of what we are all about. They are hardworking, supported in communities, a key element of sustaining our environment and they make delicious food!
Abbey Gardens started keeping bees in 2016. Our bee yard is located just up the road from the Food Hub. There is a beautiful pollinator garden in front of the yard that showcases a wide variety of flowering plants. This garden was a Canada150 project completed in partnership with the Haliburton Highlands Land Trust and the Master Gardeners. You are welcome to visit the bees anytime. But be cautious – they are very active in this area! 
In 2018, with the support of BMO, we started a week-long celebration called Honey Week. It takes place during the last week of August and features: workshops, story time and story walks in the garden, honey tasting, tours of the bee yard and more. Visit our Events calendar for information on this year's plans. Find us at 1012 Garden Gate Drive, Haliburton,ON.     705.754.GROW (4769)
We're always looking for youth interested in making a difference in their community.
Whether you're looking to volunteer once or get involved with a regular role, we have something for you! Volunteering with us is a great way to gain skills in gardening, ecology, education, livestock care and retail management all while gaining your Community Service Hours. Browse the volunteer roles above to find the one that's right for you or check out our Leaders In Training program below- exclusively for youth!
Leaders in Training (LIT) Program
Experience the fun of camp while learning leadership skills through our Leaders in Training (LIT) program! Work alongside an experienced educator to deliver camp programs this season. LIT's practice their skills by leading games, crafts and activities and shadowing education staff during camp programs.  A hands-on opportunity to cultivate self-awareness, communication and cooperation skills all while getting community service hours.
What makes our Leaders in Training program so unique? A one-of-a-kind opportunity to participate in a 3 hour professional development session during an orientation day prior to your camp experience....with our horses! Working with our ponies and experienced trainers, LIT's complete activities with our ponies designed to help identify leadership styles, gain confidence and learn appropriate assertiveness. The orientation day is held on Friday June 30th from 9:30am-4:30pm. Cost is $50 per person (includes lunch).
Our Leaders in Training program is perfect for youth ages 15-17.
To get started, submit a cover letter and resume to Irene Heaven,
irene@abbeygardens.ca
by June 16th. Cover letter should express why you'd like to take part in this program, as well as the camp(s) you'd like to assist with and the dates you're available. Please note that you must attend the orientation day to participate in our Leaders in Training Program. See our
CAMP BROCHURE
for a list of camps to choose from.