Find out how we mill our Red Fife flour on site at Abbey Gardens, and scroll down for a recipe you can try at home to make Red Fife Oatmeal Raisin Cookies!
The Food Hub at Abbey Gardens is a cafe and grocery store offering many local options like freshly roasted coffee, fresh stone ground flour and baking mixes, as well as homemade jams, soups, and salads. We are proud to sell food that is wholesome, delicious, and sustainable.
When the Food Hub opened its doors in 2013, we knew that offering unique, fresh, and satisfying food would be a great way to serve Haliburton County. We also knew that all varieties of wheat can be very hearty and full of nutrients, but that the commercial milling process depletes those nutrients (and they are later fortified). On the other hand, processing wheat in small batches using a stone mill allows more nutrients to remain in the flour.
About Stone Milling
Stone milling has long been used for producing flour and other grain products. There are still heritage sites in Ontario that feature traditional stone mills used long ago to grind flour for their communities. There are also companies across the world that build modern stone mills for small and medium scale production.
Abbey Gardens acquired a mill from Osttiroler Getreidemühlen in Austria. Since 2013, we have been using the mill to produce fresh, stone ground flour using Red Fife wheat. We mill whole grain flour from the entire wheat berry, or sift it into semolina flour, white flour, bran, and grits.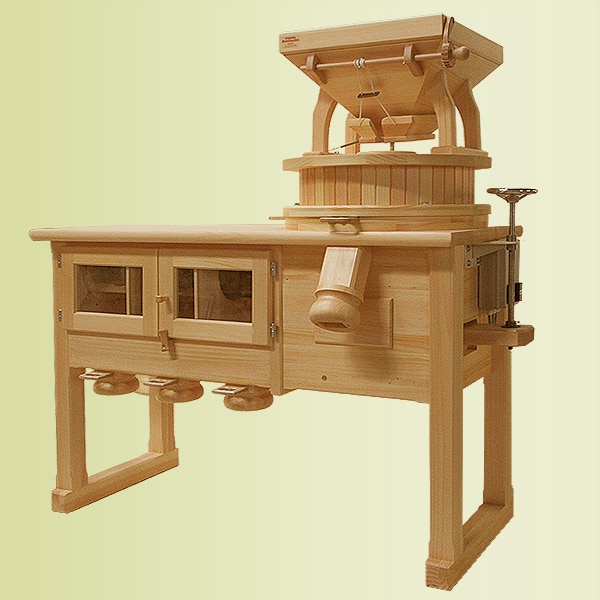 These flours and bran are sold in the Food Hub, and we use them in our Red Fife pancake, muffin, and cookie mixes, as well in baked goods from our kitchen. Grits are a waste product that can be used to feed livestock or composted. Because they are freshly ground and full of germ oils, enzymes and nutrients, our flours and baking mixes have a shelf life of 6 months. This can be extended by storing in a cool area, refrigerator, or freezer.
Red Fife Wheat
Red Fife wheat is a heritage grain that came to Canada in 1842. It grows well in different climates and quickly became popular after its arrival. It is still grown across the country, but for large scale production, was replaced as other, more resilient varieties were developed. For our flour at Abbey Gardens, we source only organic, Canadian-grown Red Fife wheat.
For 6 years, we operated the mill within the Food Hub for demonstrations. However, in 2019 it became clear that room in the store was needed to expand our lunch counter, food to-go offerings, and cheese selection. The mill was moved to the Gathering Place, which is located on-site at Abbey Gardens just up Garden Gate Drive.
Anyone interested in the mill is welcome to contact us for a tour or milling demonstration. We offer custom tours to families and groups and would be happy to include a visit to the mill!
Our Red Fife flour is versatile and flavourful, giving baked goods a hearty, nutty flavour. Because it is stone ground, even white all-purpose Red Fife flour will be less refined than commercial flour. For at home baking, we recommend starting with a 50/50 split (50% Red Fife flour and 50% your usual flour). It's delicious in bread, muffins, cookies, and bars.
Whole, unmilled wheat berries can also be cooked and used in salads, porridge, or included in breads.
Want to carry or use freshly milled Red Fife products at your store, B&B, or restaurant? Contact us for wholesale information and samples.
Try out a recipe featuring Red Fife Flour from the Food Hub! Check out the delicious recipe for Red Fife Oatmeal Raisin Cookies below.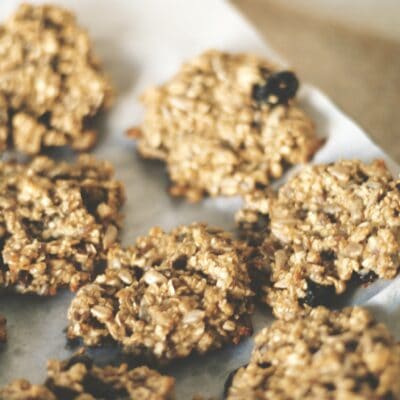 Red Fife Oatmeal Raisin Cookies
Red Fife wheat is a heritage grain that came to Canada in 1842. It's a versatile and flavourful flour that gives baked goods a hearty, nutty flavour. We mill the flour onsite at Abbey Gardens, which means more nutrients remain in the flour after milling. It also means it's less refined than commercial flour, so we recommend a 50/50 mixture during baking.
Red Fife flour is available for sale at the Food Hub and makes for a delicious (and unique) addition to any recipe. This Oatmeal Raisin Cookie recipe is a Abbey Gardens classic, and we're excited to share it.
Ingredients
1

cup

butter

room temperature

1

cup

brown sugar

1/2

cup

white sugar

2

eggs

2

tsp

vanilla

1

cup

regular flour

your preference

1

cup

Red Fife flour

available at the Abbey Gardens Food Hub

1

tsp

baking powder

1

tsp

baking soda

1

tsp

cinnamon

3

cups

oatmeal

1 1/2

cup

raisins
Instructions
Preheat your oven to 350 degrees.

Cream butter and sugars together. Add eggs and vanilla.

In a separate bowl, combine flour, baking soda, baking powder, cinnamon, and salt. Add to butter mixture.

On a greased cookie sheet, spoon tablespoons of dough, leaving a few inches around each ball for the cookies to spread.

Bake at 350 degrees for 11-14 minutes.